Grand Theft Auto Vice City Stories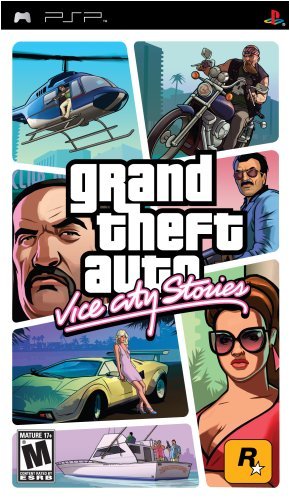 Incredible, living world on the PSP. Help your handheld pump its graphics muscle!
Take the PS2 hit on the road and discover new life in old friends.
All new missions, cars, buildings and weapons.
Explore a gloriously open-ended world where each action could impact who you know and where you go.
Engrossing stories and life-like characters; hallmarks of the Grand Theft Auto Series.
Take2 Games Grand Theft Auto Vice: City Stories 27976 PC GamesVice City, 1984. Opportunity abounds in a city emerging from the swamps, its growth fueled by the violent power struggle in a lucrative drugs trade. Construction is everywhere as a shining metropolis rises from foundations of crime and betrayal. As a soldier, Vic Vance has always protected his dysfunctional family, his country, himself. One bad decision later and that job is about to get much harder. Kicked out onto the streets of a city torn between glamour and gluttony, Vic is faced with a stark choice – build an empire or be crushed.
Grand Theft Auto: Vice City Stories is the highly anticipated portable prequel to the PlayStation 2 blockbuster.
Take to the seas with stolen water craft! View larger.
Vehicles and characters have incredible detail. View larger.
Over 70 missions are up for grabs. View larger.
Vice City comes alive as other characters recognize your
Buy From Amazon