SanDisk Sansa Fuze+ 4GB MP3 Player with 2.4″ LCD Screen, Touchpad and microSDHC Slot – Black – Manufacturer Refurbished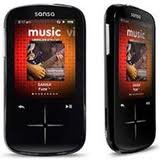 The Sansa Fuze+ MP3 player packs a seemingly impossible number of features into a slim profile that fits comfortably into a pocket or purse. Take it with you to the gym or on the road
The Sansa Fuze+ MP3 player has a remarkably large and vibrant 2.4-inch QVGA LCD screen (320 x 240).
The Sansa Fuze+ MP3 player supports slotRadio cards, which give you instant access to a veritable music library without the hassle of download
With a long battery life,1 the Sansa Fuze+ MP3 player lets you enjoy more of everything
Item Includes;MP3 Player,USB Cable(Compatible with most USB chargers)Headphones,
With the versatile SanDisk Sansa Fuze+ MP3 player, you'll get more features for less money. You'll be able to watch video on the 2.4-inch screen, share photos, listen to FM radio, record voice memos, and more–all in a device that is just 0.43-inches thin. Internal memory and a microSDHC expansion slot give you plenty of storage options for your digital media, and you can expand your enjoyment even further by adding an optional slotRadio card for an instant library of songs.
Buy From Amazon