Zuke's Mini Naturals Dog Treats Roasted Chicken Recipe, 16-Ounce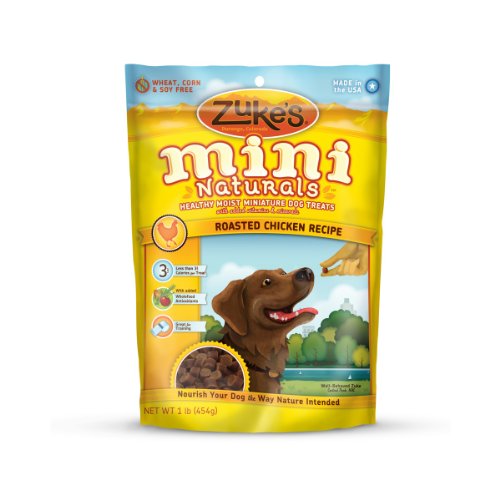 Delicious, semi-moist texture
Made in the USA with USA sourced meats, grains, fruits and vegetables
Made without artificial colors, flavors or by-products
Chicken, Ground Rice, Ground Barley, Malted Barley, Gelatin, Vegetable Glycerin, Tapioca, Natural Flavors, Cherries, Sunflower Oil, Lecithin, Salt, Phosphoric Acid, Rosemary, Turmeric, Sorbic Acid (a preservative), Ascorbic Acid (Vitamin C), Mixed Tocopherols.
Wholefood Antioxidants ? Help maintain a healthy lifestyle with nutrient-rich cherries, rosemary, and turmeric. Less Than 3.5 Calories per Treat ? Help keep waistlines trim while feeding as a frequent reward or healthy training treat. Great for Training ? The perfect little size and amazing taste to keep training fresh, healthy and fun.
One tasty little Mini and Zuke is at full attention. He sits, stays, and focuses— ready to learn or just enjoy a healthy treat for being such a good boy. The naturally delicious formula makes all the difference—quality protein, wholefood antioxidants, and a mouthwatering taste your dog will love. So feed a handful and make your time together a healthy adventure. Product Details Ingredients Chicken, Ground Rice, Ground Barley, Malted Barley, Gelatin, Vegetable Glycerin, Tapioca, Natural Flavors, Cherries, Sunflower Oil, Lecithin, Salt, Phosphoric Acid, Rosemary, Turmeric, Sorbic Acid (a preservative), Ascorbic Acid (Vitamin C), Mixed Tocopherols. Guaranteed Analysis Crude Protein – 15% minCrude Fat – 8%Crude Fiber – 2%Moisture – 30% maxCalories – approximately 3.19 calories per treat Product Description Why Zuke's Mini Naturals? Treats! Nothing in the English language can perk up a dog's ears quite like the word "treats". Every Mini Natural is packed with the taste o
Buy From Amazon